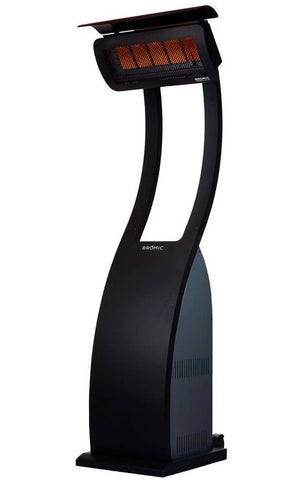 Bromic Smart-Heat Tungsten Portable Outdoor Gas Heater - Liquid Propane (LP)
Usually ships in 1 to 3 business days
The Tungsten Smart-Heat Portable heater brings the revolutionary radiant performance of its fixed gas counterpart to an ergonomically designed portable platform. Creating comfort over an area up to three times the size of that serviced by a traditional portable heater while fueled by the same single gas cylinder, this unit utilizes directional heating to evenly, efficiently and effectively service any area it is wheeled into.
Approximate Heat Coverage (*Heat area dependent on ambient temperature and wind): 16 feet 5 inches deep x 13 feet wide
Ignition: 1.5V Battery activated repetitive spark ignition
Adjustable Heat Output: 21,300 BTU's – 39,800 BTU's
Wheels included
Fuel Source: Propane
Gas Supply Pressure: 11"wc
Gas Supply: Gas Cylinder not included
Safety Features: Flame Failure & Anti-Tilt Safety Device
Weight (excluding cylinder): 123.5 lbs.
Features:
High-Performance Mesh Screen
The Tungsten's unique screen scientifically manipulates infrared energy to maximize performance while achieving a superior spread of heat.
Exceptional Wind Resistance
The Tungsten's signature mesh screen enables remarkable wind resistance when combined with twin thermocouples, functioning reliably in winds of up to 8 mph.
Ceramic Efficiency
Slow-release ceramic burners efficiently combust gas to fuel the most environmentally friendly gas-fired heating method available.
Strong, Direct Heat
Robust radiant heat output with heater head adjustment for greater positioning versatility.
Unrivaled Coverage
Projects comfort evenly across a wide range while reaching deeply into open areas.
International Acclaim
Distinct difference from traditional portable heaters has earned widespread praise, including accolades such as the Good Design® Award and Red Dot Award.
Superior Safety
Patented flame failure and tilt safety technology ensures risk-free operation at all times.
One-Touch Ignition
Simply set the gas and push a button; the repetitive spark igniter will do the rest.
Ergonomic Modular Design
The perfectly balanced body is easily de-constructed for transport or storage while offering superior tilt resistance and effortless movement.
---
We Also Recommend