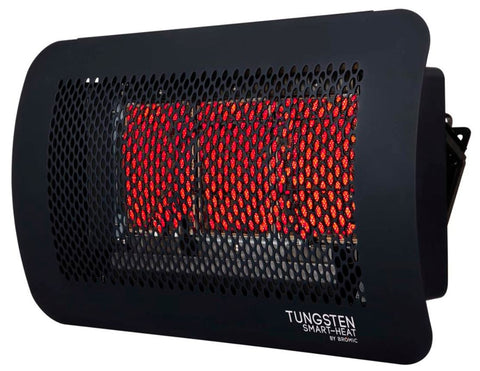 Bromic Heating Smart-Heat Tungsten 300 Series Outdoor Gas Heater - Propane (LP)
Usually ships in 1 to 3 business days
A designed, cost-conscious product range that does not sacrifice aesthetics for function. The patented direct ignition system, never before seen on an outdoor gas radiant heater, ensures a reliable start and effective operation, even in winds of up to 8mph. Easy pivot arm provides greater positioning versatility and heat coverage.
Heat Output: 26,000 BTU's
Burners: 3
Gas Connection: 1/2" NPT Female
Approximate Heat Coverage (*Heat area dependent on ambient temperature and wind): 13 feet deep x 12 feet 3 inches wide
110 Volt, 3-pin insulated plug
Dimensions: 19.29" x 14.09" x 14.25"
Clearances:
Sides: 3 feet
Without Heat Deflector: Above (to ceiling): 36 inches
With Heat Deflector: Above (to ceiling): 14 inches
Minimum Mounting Height: 8 feet
Weight: 33 lbs.
| | | |
| --- | --- | --- |
| Heat Deflector | Ceiling Bracket Kit | Ceiling Mount Pole |
Features:
High-Performance Mesh Screen
The Tungsten's unique screen scientifically manipulates infrared energy to maximize performance while achieving a superior spread of heat.
Ceramic Efficiency
Slow-release ceramic burners efficiently combust gas to fuel the most environmentally friendly gas-fired heating method available.
Strong, Directional Heat
Robust radiant heat output with an easy pivot arm bracket for greater positioning versatility.
Patented Direct Ignition
Automated direct ignition eliminates the need for a pilot, resulting in instantaneous ignition.
Ultra-Durable Design
Stainless steel construction ensures reliable heating for years to come.
Exceptional Wind Resistance
Patented screen and ionization probe technology enables remarkable wind resistance, functioning reliably in winds of up to 8 mph.
Ease Of Use
Smart system compatibility and automated re-ignition allows users to simply set and forget.
Versatile Mounting
Reclaim valuable floor space through fixed heating with a range of ceiling and wall mounting options.
Wireless Control Capabilities
Genuine wireless control accessories allow seamless integration of remote heater control.
---
We Also Recommend