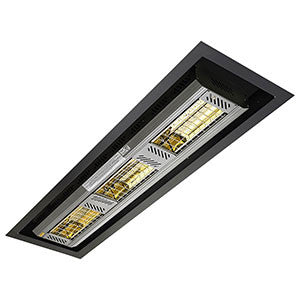 Solaira ICR Series H3 Trim Kit - SICR-H3-TRMG, Black
Usually ships in 1 to 3 business days
Solaira ICR Series H3 Trim Kit:
Allows for recessed ceiling installations
Creates a flush, streamlined appearance
Easy to install
For use with ICR H3 Series Heaters ONLY
Includes Trim Kit Only
Create a streamlined appearance for your Solaira ICR Outdoor heater with this easy to install Trim Kit for recessed applications. You'll be able to safely recess the heater into your ceiling, helping to keep the architectural aesthetic of the area. The overall appearance of your outdoor space will hardly change thanks to this kit and you won't have unsightly hardware and protrusions from your ceiling. This is the way outdoor heater installations should be done.
---
We Also Recommend