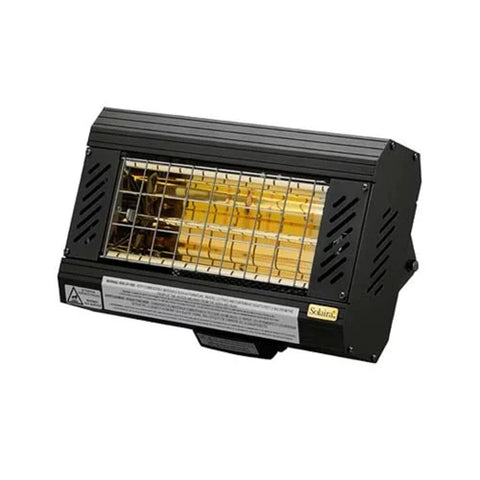 Solaira ICR Series H1 2000W, 208/240V Black, Ultra Low light
Usually ships in 1 to 3 business days
Solaira ICR Series 2000 Watt, 240V Electric Patio Heater - Black
ICR SERIES, HIGH OUTPUT, LOW CLEARANCE 2,000 WATT 240V 8.3 AMPS BLACK epoxy powder coated, extruded aircraft aluminum housing, aluminum wall mount brackets, stainless steel hardware integrated safety grills.

ICR fixtures are IP55 weatherproof rated for completely exposed outdoor or indoor applications.

ICR heaters are our most versatile fixture and are engineered for wall mount, ceiling suspended and fully integrated (recessed) applications (requires trim kit and 1hr fire rated box).

ICR Series heaters utilize filtered low glare Solaira S-wave emitter technology that convert 92% (85% after reflector) of consumed energy into directional, radiant heat. S-wave radiant heat is virtually unaffected by wind, achieves full output in less than 1 second and is completely directional. The technology is ideal in breezy environments.

ICR series are certified by cCSAus (UL2021 and CSA22.2). ICR Series heaters are available in standard black or white colors and can be custom ordered in most RAL colors to suit design.

ICR compact are available in 2,000, 3,000 4,000 and 6,000watt, 240V.
About this Series
Engineered for:
Commercial/residential (outdoor) high output radiant infrared heat
Low mounting clearance to ceiling
Recessed (flush) mount applications
High mounting heights
Ceiling, Ceiling suspended, Integrated (recessed or flush) or wall mount options
Solaira's new ICR Series high performance, high output engineered shortwave heating technology. ICR SERIES heaters produce short infrared wavelength which can convert greater than 85% of consumed energy into instant, controllable, directional heat. Radiant efficiency is maximized because heat generated by SOLAIRA heaters warms people and objects, with limited warming of the air and is virtually unaffected by air current or breezes.

Low Ceiling Clearance Solaira ICR SERIES allows specifying engineers to adjust specified heating loads based on area requirements. ICR SERIES heaters have low ceiling clearance requirements (as little as 4.5? clearance with included mounting bracket directly to ceiling and 6? when mounted on wall)

Recessed (flush) Mount Option With Kit Solaira ICR SERIES allows specifying engineers and architects to recess patio heater for commercial and outdoor residential ceiling structures***. The certified installation reduces ceiling clearance to zero minimizing ceiling clutter, for a clean, streamlined look. ***Recessed Solaira ICR Series heaters require recess kit (sold separately) and 1 hr fire rated installation enclosure supplied by contractor as per approved manual guidelines.

Note: ICR Heaters and trim kits are available in standard-G Black, custom RAL colors available
Note: All models come in standard low glare emitter lamps, for Ultra-low glare, please see CANDEL Series (LL)
Note: * Trim Kit required for integrated (recess) application per cCSAus Instruction manual along with fire rated box provided by authorized contractor
---
We Also Recommend